FEATURED ARTIST: Dan Vapid & The Cheats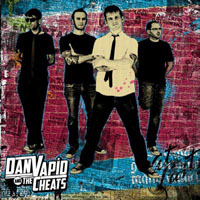 DAN VAPID & THE CHEATS
---
Dan Schafer, better known as Dan Vapid, has been a fixture of the underground punk scene since the mid 1980s, when he provided guitar and bass work for hardcore legends Screeching Weasel. Vapid's mark can be found on classic Weasel albums like "My Brain Hurts", "Wiggle", and "Anthem For A New Tomorrow." Vapid has also left his mark as a member of contemporaries such as The Riverdales, The Queers, The Methadones, and Noise By Numbers.
After Screeching Weasel's collapse following an unfortunate incident at SXSW, Vapid immediately bounded back onto the punk scene with a new group, Dan Vapid & The Cheats. Featuring Vapid on guitar and vocals, the group features a veritable who's who of punk rock contemporaries, including members of former groups of Vapid's such as The Methadones and The Riverdales.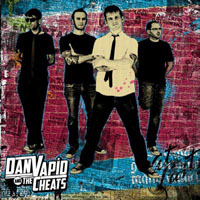 In 2012, the group released their self-titled debut to great critical acclaim, described as an amalgamation of the numerous bands Vapid has worked alongside, and has been hailed as a delightful throwback to the hard-edged pop-punk of the early 90s, mixing equal parts new wave, power pop, and even elements of doo-wop music. The album, previously available through Torture Chamber Music, is now reissued on compact disc and vinyl LP in partnership with Traffic Entertainment.
---
"Vapid's affinity for writing solid, catchy tunes is at the forefront of this record…The songs have a kind of timeless quality, which I think is a testament to Vapid's ability to craft really great songs." – PunkNews.org
"Vapid has a band that brings out not only the best in his playing, but also his songwriting as well…Bravo to Mr. Vapid and his band of Cheats on making not only a great album, but a record that will stand the test of time as one of Vapid's greatest musical accomplishments." – CriticStudio.com
"Dan sounds more comfortable on this record than on anything else he's done up to this point. And by comfortable I mean he's not afraid to mix styles of songwriting and playing." – Critical Mass
"The band's self-titled debut album is a brilliant combination of Ramones style pop punk, Midwestern punk, '50s doo wop, and power pop…This is easily one of the best records of 2012." – Oklahoma Lefty
---