FEATURED ARTIST: Muddy Waters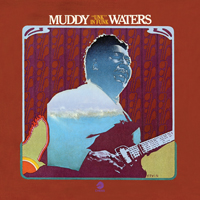 MUDDY WATERS
---
One of the major inspirations for the British blues explosion of the 1960s, referred to as the "Father of Chicago Blues", and named one of the 100 Greatest Artists Of All-Time by Rolling Stone, Muddy Waters has left a lasting and deservedly revered legacy of music, inspiring the development and inception of numerous genres. From Rock to Country to Jazz to Metal, and of course his brand of Mississippi-inspired Blues. He has also been the recipient of countless posthumous awards including a Grammy Lifetime Achievement Award, induction to the Blues Foundation Hall of Fame, Rock and Roll Hall of Fame, (Which highlighted four of his songs as "Songs That Shaped Rock and Roll") and has even been immortalized on US Postage Stamps.
Though Waters' musical career began as far back as the early 1940s, he wouldn't hit commercial success until attracting the attention of Leonard and Phil Chess of the then burgeoning Aristocrat Records. With the change of their name to Chess Records, Waters began to take off with Blues hits such as his signature tune "Rollin' Stone." During the 1950s Waters would continue to score hits with classic Blues tracks such as "Hoochie Coochie Man", and "I Just Want To Make Love To You", working alongside such legendary figures of blues as Willie Dixon, Little Walter Jacobs, Jimmy Rogers, and Howlin Wolf. Waters' success paved the way for the solo careers of members of his backing band, and would give him the clout necessary to help Chuck Berry land his first record contract.
Muddy Waters kept a low-profile for much of the 1960s, though his popularity in England sky-rocketed with his transition to electric instrumentation. (Albeit reluctantly.) His fuzzy and distorted take on the blues served as an inspiration for the likes of Jimi Hendrix, Eric Clapton, Jimmy Page of Led Zeppelin, Jeff Beck, Brian May of Queen, Angus Young of AC/DC, and Duane Allman of the Allman Brothers, among countless others. During the 1970s he made a mainstream comeback, spurned by a guest performance at The Band's farewell concert, (Later featured in the film The Last Waltz) and he continued to tour and record for Chess Records, and later Johnny Winter's label Blue Sky. For much of the 1980s his health would decline, before he passed away of heart failure at the age of 70 in 1983.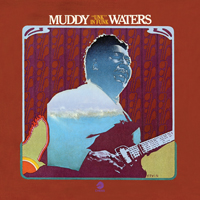 "Unk In Funk" was released in 1974, and was one of the final releases of Muddy Waters' nearly 30-year association with Chess Records. Coming barely a few years after the release of innovative albums like "Electric Mud" and "After The Rain", "Unk In Funk" would find Waters expanding on the blueprint of electric-powered psychedelic blues the former albums began. The album featured The Muddy Waters Blues Band backing him up, which has been acclaimed as one of Water's finest backing groups, featuring Pinetop Perkins on piano, (Earl Hooker) Luther Johnson (The Nighthawks) and Bob Margolin on guitar, Calvin "Fuzz" Jones on bass, (The Legendary Blues Band) and Willie "Big Eyes" Smith on drums, (Bo Diddley, John Lee Hooker) with additional guest appearances by George Buford, Paul Oscher (Louisiana Red), and Carey Bell (Willie Dixon) on harmonica.
Even at the age of 61, Waters sounded at the top of his game on "Unk" In Funk. His booming, powerful blues vocals dominate the album's fuzzy, electric orchestration. Overhauled versions of Waters classics like "Rollin' and Tumblin'" and "Just To Be With You" sound fresh as ever, and newer tracks like "Katie" and "Waterboy, Waterboy" are classic and organic additions to Waters' discography. Overlooked and underrated in its time, "Unk" In Funk is now considered a pinnacle album from Waters' catalog, and is now re-issued on compact disc by Traffic Entertainment.
---
"…he attacks his old catalog with the drive and command of a man putting it all on the line…The bouncy frolic of "Trouble No More" and the vintage Chicago R&B vibe of "Drive My Blues Away" offer the most authentic presentation of Waters then and now. While the newer songs, "Katie" and "Waterboy, Waterboy," reveal that the ol' mule still has a bit of kick in him yet…"
– AllMusic.com's review of the original album
"…his powerful vocals still shine and Unk In Funk includes a couple of rare performances, so it's a "must have…"
– About.com's spotlight on our reissue
"You can hear Muddy rallying the troops…you'll be hooked by the second track, "Just To Be With You," a slow blues workout that defines Waters' appeal…"