FEATURED ARTIST: Harlem Shuffle Records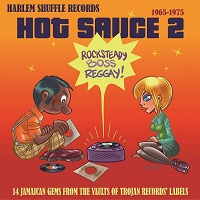 Here is the second volume of the HOT SAUCE. The compilation is dedicated to Trojan and related UK labels and releases 1965 to 1975. HOT SAUCE 2 features outstanding original Rocksteady, Boss Reggae and early Reggae tracks including rare songs, overlooked gems, hidden treasures and a couple of hits.
The record labels showcased on this volume are Amalgamated, Beverley's Records, Blue Cat, Clan Disk, Downtown, Doctor Bird, Harry J, Duke, Randy's, Smash, Spinning Wheel and Treasure Isle. The tracks here have been selected according to their musical interest, their rarity, and how they complement each other. These are all outstanding tracks, "killer tracks", there is no "filler" whatsoever. Particular attention has been paid to the way the songs are sequenced so that the album builds up nicely and gradually, generally starting with the Rocksteady songs on the A Side and the 70s songs on the B Side.
HOT SAUCE is a musical journey across early Jamaican Reggae – highlighting its diverse musical genres and outstanding artists – as it was once published by the U.K. record labels during this golden decade. Since the
early 70s "Tighten Up" series, no compilations have really explored these labels in depth on vinyl.
The cover by French cartoonist Alteau is replicated on the included full-colour insert which also features complete liner notes.