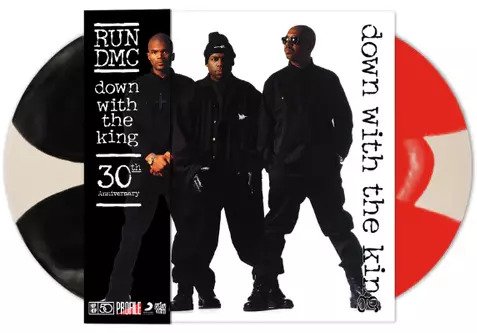 RUN-DMC 'DOWN WITH THE KING' 30th ANNIVERSARY
Thirty years ago on May 4, 1993, Run-DMC made one of the greatest comebacks in Hip-Hop history with the release of their 6th studio album Down With The King. To understand the significance of this feat we have to go back a few years.
Coming off an amazing four-album run ending with the platinum album Tougher Than Leather, Run-DMC released their 5th studio album, Back From Hell, to lackluster sales. Did Run-DMC fall off? Did the emergence of gangsta rap push them off to the side? It was sad to see your Hip-Hop heroes take a fall. Then in 1991, a 12-inch remix came out for the single "Back From Hell" featuring Chuck D and Ice Cube and fans took notice.
It would be two more years before anyone would hear from Run-DMC again. In March of 1993, a new single and video "Down With The King" debuted on Yo! MTV Raps featuring the new Hip-Hop Gods Pete Rock and CL Smooth paying homage to The Kings calling back verses from Sucker MCs over a dope signature Pete Rock beat. The video would be in constant rotation on Ralph McDaniels Video Music Box, YO!, BET's Rap City and more. Fans watched it over and over to catch all the cameos, everyone from Eazy-E to the Native Tongues Family of De La Soul and A Tribe Called Quest.
The anticipation was building, but would the album live up to the lead single that knocked it out of the park? On May 4, 1993, the album dropped on CD, Cassette, and Vinyl. Run-DMC enlisted The Bomb Squad from Public Enemy, Q-Tip, EPMD, Jermaine Dupri, Kay Gee of Naughty By Nature, and Pete Rock to produce the album with a special appearance by Tom Morello rocking out his guitar emulating DJ scratches he made famous with Rage Against The Machine. Their rhyming was as enthusiastic and powerful as they were on their debut album 10 years prior. Run-DMC, the self-proclaimed Kings of Rock and original Kings of Hip Hop were indeed back. The album debuted at #1 on the R&B/Hip-Hop charts and #7 on the Billboard 200 and would go Gold within two months.
Get On Down is proud to present for the first time on vinyl since its original release, a 30 Year Anniversary pressing on double-colored vinyl with numbered OBI in a gatefold jacket.
A1 Down With The King (feat Pete Rock & CL Smooth) • A2 Come On Everybody (feat Q-Tip)
A3 Can I Get It, Yo (feat EPMD) • B1 Hit 'Em Hard • B2 To The Maker • B3 3 In The Head
B4 Ooh, Whatcha Gonna Do • C1 Big Willie (feat Tom Morello) • C2 Three Little Indians • C3 In The House
D1 Can I Get A Witness • D2 Get Open (feat Onyx) • D3 What's Next (feat Mad Cobra)
D4 Wreck Shop • D5 For 10 Years
Pressed On Red, White and Black Double Colored Vinyl With Commemorative Numbered OBI
Limited To 2000 Copies