KMD
---
Hip-hop artists Zev Love X, DJ Subroc, and Rodan first came together in 1988, in Long Beach, New York. All three were black muslims active in the Allah Ansaar community, and would make up the founding members of the short-lived, but highly influential hip-hop group Kausing Much Damage, shortened to KMD. (Though Rodan would later leave to finish high school, replaced by the rapper Onyx The Birthstone Kid.) The group would spend time performing locally at community shows before attracting the attention of MC Serch of 3rd Bass, who gave Zev Love X a guest spot on their minor hit "The Gas Face." This appearance put them on the radar of Elektra Records, who signed them shortly after.
KMD would make their recording debut with 1991's Mr. Hood, which featured lyrics about racism and black empowerment, relayed in a comical, and satirical fashion, with eccentric production techniques, including sampling old children's TV shows. Mr. Hood came at a time when the more irreverent alternative hip-hop of groups like De La Soul, A Tribe Called Quest, and Hieroglyphyics were starting to come into their own, so the album found critical praise, and even MTV airplay and minor Rap Charts hits with "Who Me?" and "Peachfuzz."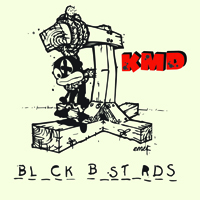 Ultimately however, KMD's group fortunes would come to an end with the rocky release of what would ironically be considered their best album: Black Bastards. Black Bastards dramatically ramped up everything that had made Mr. Hood a critical hit; the satire was more biting, the racial themes were more candid, and featured black nationalist themes and references. The cover of the album even featured the controversial artwork of a racist caricature of a black man being hanged in a game of hangman. Elektra had decided the album was too controversial to release, so the label dropped KMD the same week Black Bastards had been scheduled to hit shelves in 1993. This, coupled with the recent death of DJ Subroc attempting to cross an expressway, would cause the group to collapse, and for Zev Love X to drop out of the music scene for 4 years. (Returning under a new, more successful moniker: MF DOOM.)
During the time Elektra had severed ties with KMD, the master tapes for the Black Bastards recordings were left with Zev Love X as incentive to leave the label. In the time between until Zev returned as MF DOOM, Black Bastards was heavily bootlegged, until finally seeing release in 1998 under the independent label Fondle 'Em Records, seeing a reissue on Sub Verse Music in 2001, and again in 2008 under DOOM's own imprint Metal Face Records. Now in 2015, Metal Face Records presents the album in its most deluxe compact disc reissue yet. In addition to the original album, the new deluxe version of Black Bastards features a 2nd disc of bonus material, including rare cuts, remixes, and instrumentals, plus a 32-page booklet of liner notes, rare photos, and interviews with MF DOOM, Pete Nice, Dante Ross, and Bobbito Garcia.
Shipping from Traffic Entertainment Group!
---
PRESS FOR BLACK BASTARDS
"…there's something that's still very real and new about hearing the group move through their emotional spaces. Moreso than listening to the birth of MF DOOM, it's the death of KMD, not just the group, but of both of the guys who made Mr. Hood. And for all of its darkness, there's the unbridled brightness of growing artists still exploring the limits of their medium and textures of their own voices."
"…Bl_ck B_st_rds is as much a fitting end to one life as it is the beginning of another. If Operation Doomsday is the Fellowship of the Rings, then Bastards is undoubtedly hip hop's Hobbit."
"The rare great lost album that justifies its legend…the crew's two founding brothers are exhilarated by their belief that hip hop can persuade the youth to watch out for cancer sticks and nibble plum pudenda, by their mastery of a sonic layering that assumes the Bomb Squad and has fun with it, by bass player B. Thompson. Of course, they're also exhilarated by each other, and that wasn't gonna last. But make a face at Elektra anyway."
"…Sure, Black Bastards sounds dated, but it's dated in a quality, underground, slept-on kind of way. Like you can still groove to De La Soul Is Dead or Divine Styler's Spiral Walls Containing Autumns of Light."
---