ADRIAN YOUNGE & SOULS OF MISCHIEF
---
Adrian Younge is a producer and composer of music for film and television, as well as a professor of entertainment law, and proprietor of the vinyl record store Artform Studio, in Los Angeles. The sounds of his compositions come from a wide range of influences, including hip-hop music, the blaxploitation movement, psychedelia, 70s-era soul music, and the works of Italian composer Ennio Morricone, among others. This distinct blend of styles has set the tone for films such as Venice Dawn, Something About April, and Black Dynamite (And its corresponding animated TV series), as well as on music releases such as Ghostface Killah's 12 Reasons To Die, and Adrian Younge Presents The Delfonics.
Souls Of Mischief meanwhile, are a pioneering 90s-era rap group, and a key part of the hip-hop collective Hieroglyphics. The group and their four members, A-Plus, Opio, Phesto D, and Tajai, are well known and acclaimed among enthusiasts for their genre-blending lyrical content, emotional profundity, witty and abstract rhymes, charismatic presence, and production heavily focused towards long-lost jazz and funk music. Their signature release, 1993's 93 'til Infinity, is considered a slept-on classic of the genre, a breath of fresh air during a time when the dour grittiness of gangsta rap held sway, and has gone on to be named one of the greatest Rap Albums of All Time by outlets like The Source, SPIN, and XXL.
With such similar influences and creative outputs, it seemed inevitable that these two artistic forces would come together for a collaborative album. Thus Linear Labs is proud to present There Is Only Now, a hip-hop concept album featuring the Souls on vocals, with Younge handling production. Taking its inspiration from an incident that nearly tore the group apart, There Is Only Now features the Souls signature rhyming prowess, cast alongside Younge's cinematic production style, with guest appearances from contemporaries like Snoop Dogg, Busta Rhymes, Ali Shaheed Muhammed of A Tribe Called Quest, William Hart of The Delfonics, and Scarub.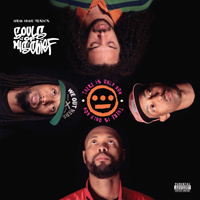 Traffic Entertainment Group will be distributing the much anticipated studio album as well as an instrumental release highlighting Younge's grandiose production, on vinyl and cassette tape.
---
PRESS FOR THERE IS ONLY NOW
"There Is Only Now" Music Video featuring Snoop Dogg
Interview With HypeTrakTV
Stream the track "Panic Struck" at EgoTripLand.com
---