---
The death of influential beatsmith James "J Dilla" Yancey brought about numerous tributes and homages from artists and bands in the industry, and those who knew him. Among those paying tribute were Dilla's own younger brother John Yancey, otherwise known as "Illa J", (Now a member of the hip-hop group Slum Village, founded by J Dilla himself.) who released the critically acclaimed album "Yancey Boys" in 2008, which featured Illa J rapping over unreleased Dilla beats, alongside contemporaries and other Dilla cohorts such as Frank Nitt, (Born Frank Bush) one-half of the revered, Dilla-produced duo Frank-N-Dank, and curator of his music catalog.
Even after producing an entirely new album utilizing unearthed J Dilla productions, treasure troves of long-lost beats still remain untouched. In the spirit of further paying tribute to the legacy of Dilla, Illa J and Frank Nitt have teamed up to form a new hip-hop duo named for Illa J's original Dilla-produced album: Yancey Boys. The groups upcoming debut album, "Sunset Blvd." is produced with the official approval of Yancey Media Group, and features Illa and Nitt's vocals built around yet another collection of previously unheard Dilla beats, originating from an earlier compilation "The Lost Scrolls." The album will feature guest spots from the likes of Guilty Simpson, Posdnous of De La Soul, SlimKid3 of The Pharcyde, T3 of Slum Village, and many more.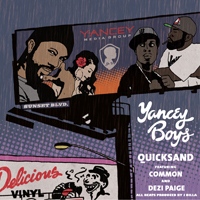 To promote "Sunset Blvd.", which will be released in late 2013 through the legendary record label Delicious Vinyl, Yancey Boys have released a 12" featuring the album's lead single, "Quicksand." The 12" features guest spots from alt-rap superstar Common and frequent Dilla collaborator Dezi Paige, while the B-side "Fisherman" features guest spots from J Rocc of Beat Junkies, Vice, & Detroit Serious. Both sides include the original vocal mixes, and instrumental versions, and will be shipping from Traffic Entertainment.
---
EARLY PRESS FOR THE
"QUICKSILVER/FISHERMAN" 12"
AND "SUNSET BLVD." ALBUM
MUSIC VIDEO FOR THE B-SIDE, "FISHERMAN":
"The Yancey Boys (Illa J x Frank Nitt) had us hooked with their last track, "Fisherman," but you're likely to drown in the dopeness of their latest single, "Quicksand." Just like the rest of the upcoming Yancey Boys album, Sunset Blvd, J Dilla is on the production, this time getting a verse from Common and a silky hook from Dezi Paige."
"Dezi Paige adds another dimension to a super soulful beat while Common delivers a strong verse where the emotional impact of his friendship with Dilla comes out. Frank Nitt and Illa J keep up with veteran Common and add in their own two great verses with Illa J showing he is capable of living up to his brother's legacy."
"This track brings back so many memories. Common has had one blessed career – working extensively with the likes of No ID and Kanye West; however, if you ask me, he's has always sounded the most at home on J Dilla's lust production…a bouncy tracks with some strong contributions from Common, Dezi Paige and Illa J. Dilla's production is as lively as ever and these three emcees make the most of it."
"…all previous singles have been sounding pretty damn good, including the newly presented "Quicksand". It is tough to mess up a beat as smooth as this, especially when Common and Dezi Paige come through to provide stunning vocals respectively. Luckily, Illa And Frank come through, too, with two verse that see the Detroit players holding their own."
---