WU-TANG CLAN
---
Get On Down Presents:"Enter The Wu-Tang (36 Chambers)" complete album on 7 inch for the first time ever housed in a deluxe casebook created in full collaboration with The RZA.
This absolutely unique, deluxe edition of this classic album – which has been created in full collaboration with The RZA – is presented as a "Casebook" hardcover book, which houses the album's 12 full songs that are divided into six 7-Inches. And beyond the 56-page liner notes, six additional pages have a Wu-Tang logo picture sleeve in which to put the vinyl.

Besides the vinyl, the centerpiece of the Casebook is a 56-page Shaolinology book, featuring input by RZA, written by journalist Chris Faraone. Beyond many never-before-discussed Wu-Tang nuggets, the book also includes rare photos of the group, lyrics for all album songs, as well as other images and advertisements from the Enter The Wu-Tang era.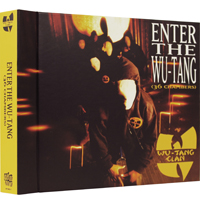 For the Wu-Tang Clan fan – this is a trophy to be proudly displayed to celebrate the influence of one of music's most influential groups.
---
PRESS FOR ENTER THE WU-TANG (36 CHAMBERS)
"Furious flows that roar through speakers like controlled screaming. The Wu create an air of wildness that promised violence to anyone who challenged them and to some who didn't. A generation of fans memorized every word."
"There was nothing like it in the hip-hop world at the time, and even after years of imitation, Enter the Wu-Tang still sounds fresh and original."
"This album is a throwback to the days of 1986-87, when rap was filled with honesty, greatness and skill…Never since Criminal minded has an album been so stripped down and pure…"
"With its rumble jumble of drumbeats, peppered with occasional piano plunking, Enter has a raw, pass-the-mike flavor we haven't heard since rap was pop's best-kept secret."
"Enter The Wu-Tang (36 Chambers) rattled the industry and the nation, proving an eclectic group of rappers could come together to produce something so intrinsically profound and artistic."
---