UGK
---
Super Tight…is the second album from Hip Hop legends UGK, originally released in 1994. The title of the album is taken from its stand out single "Front, Back & Side to Side". Bun B and Pimp C (R.I.P.) were already on fire from their debut album a few years prior but they perfected the Southern Playa sound with this record. At the time of its release Super Tight…was only issued on Cassette and CD so it's a must for fans and collectors to grab the vinyl now that it's available for the very first time.

The album kicks off with "Return", which after a few snare hits and the bluster of Pimp C's voice it is clear to the world – the underground kings are back. Countless tracks like "Three Sixteens" (featuring DJ DMD), "Stoned Junkee", "It's Supposed to Bubble", "I Left It Wet for You" and the previously mentioned "Front, Back, & Side To Side" all perfectly showcase the chemistry between Bun B & Pimp C over deep southern funk grooves. The production on this album is stellar, all bass heavy and features Meters lead guitarist Leo Nocentelli. Like their debut album Too Hard to Swallow Bun B and Pimp C were ahead of the game, and with Super Tight…they perfected it.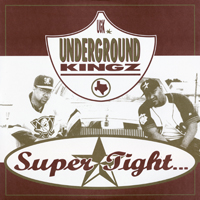 Get On Down now presents the album, committed to wax for the first time, and pressed on limited edition clear vinyl!
---
PRESS FOR SUPER TIGHT
"UGK's third release smoothed out some of the rough edges of their earlier efforts without even coming close to selling out, something that not only landed them in the Billboard 200 album chart for the first time but solidified their status as the leaders of Texas hip-hop…"
"…It would still be years before the Underground Kingz found mainstream success collaborating with the likes of Jay Z or Three 6 Mafia, but for Pimp C and Bun B, Super Tight unapologetically encompassed everything they stood for as Southern creatives."
"…For such a smooth and often laid-back backdrop, Super Tight evokes an absolutely flooring array of emotions. It's the work of two artists at the absolute height of their game that's unfortunately been shadowed by their follow-up masterpiece."
"Two years after their classic debut, UGK came back stronger with the appropriately titled "Super Tight."…another classic that should already be in your collection if you are a UGK fan."
---