THE NEW YORK DOLLS
---
Considered one of the most important (though not most popular) American rock groups of the 1970s, The New York Dolls were integral in helping to set the blueprint for hard rock, glam rock, and punk music. (Alongside acts like Velvet Underground and The Stooges.) Formed in 1971 in New York City's burgeoning punk scene, the band had a dirty, raucous, and edgy sound that differed from the largely pristine and layered sound of most 1970s rock recordings. Their songs were strongly influenced by a distinctly New York sensibility, which incorporated dark cynicism and biting wisecracks into their lyrics, and featured imagery strongly influenced by English glam & androgyny. (The Dolls would frequently wear flamboyant and flashy attire during their live shows.) Though not massively successful in a mainstream sense, the group went on to inspire artists and groups such as The Sex Pistols, The Ramones, Guns N' Roses, Kiss, The Damned, and The Smiths, before breaking up in 1977. (They would later reform to tour and record new albums in 2004.)
The group's two most famous and influential albums were recorded during the mid-1970s. The group first distinguished themselves with the release of their self-titled debut in 1973. Though the album was critically acclaimed, and put the band on the map, the band was dissatisfied with the final product. Particularly the production work, care of 1970s soft rock superstar Todd Rundgren. Rundgren's famously immaculate production style clashed with the Dolls' raw sound, and led to frequent conflict during recording. (Rundgren often shouted at the group in between takes to "get the glitter out of your asses and play!") For their follow-up, frontman Dave Johansen enlisted famed producer Shadow Morton, whose acclaimed work with The Shangri-Las, Janis Ian, and Iron Butterfly enthused Johansen.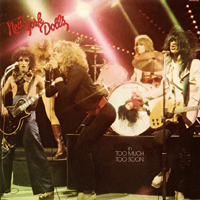 The finished product was titled Too Much Too Soon, and featured Morton's production, which though more sophisticated, better captured the Dolls' hard edged sound. It featured covers of songs from artists that inspired the group like Archie Bell, and The Cadets, as well as more of the band's own rowdy proto-punk tunes, which had been flavored with Morton's signature production techniques, including the use of cinematic sound effects, and female choruses as backing vocals. Like the Dolls' debut, Too Much Too Soon was not a massive commercial success, but was critically acclaimed, and has attained a reputation as a lost gem of legacy punk music. It has been named one of the best albums of the 1970s by outlets like the Chicago Sun-Times, The Village Voice, and AllMusic.com, and is considered vastly underrated next to the Dolls' more visible debut.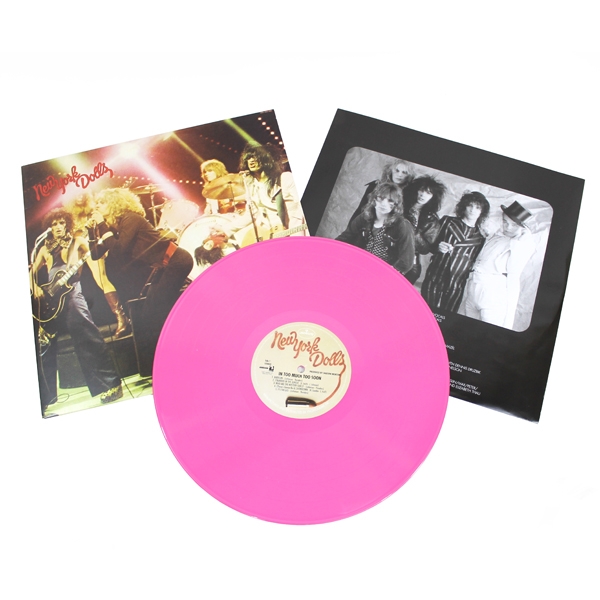 In recognizing the importance of this obscure proto-punk cut, Boston label Get On Down now re-releases Too Much Too Soon as a deluxe LP reissue. The New York Dolls' original sophomore release is intact, now with re-mastered audio, and comes packaged in a premium inner sleeve with photos and liner notes. To top it all off, the album has been pressed on hot pink-colored vinyl!
Now shipping from Traffic Entertainment Group.
---
PRESS FOR TOO MUCH TOO SOON
"…Too Much Too Soon owes much to producer Shadow Morton, who has shown the Dolls how to make those edges stand in relief against the group's natural and undeniable talent…I think they're the best hard-rock band in America right now."
"Not only are the guitars cleaner, but the mix is dominated by waves of studio sound effects and female backing vocals. Ironically, instead of making the Dolls sound safer, all the added frills emphasize their gleeful sleaziness and reckless sound…Not only were they punk rock before punk rock was cool, but they remained weirder and more idiosyncratic than any of the bands that followed. And they rocked harder, too."
"To help bestow a modicum of spiritual contentment on those born too late to have seen their original incarnation, the New York Dolls released two perfect albums in August 1973 and May 1974…the covers are magnificent: a Sonny Boy Williamson song that turns the Chicago blues master into a campy scold, and two R&B novelties whose theatrical potential was barely noticed until the Dolls penetrated their holy essence."
– Robert Christgau, writing for Blender Magazine
"…it's easy to start and end one's experience with the Dolls with their eponymous debut. But there's another important document out there, and it's the other original line-up-era release, Too Much Too Soon….for the music nerds who want to take a step further and hear a band that could be theatrical without sounding overblown, raw but somehow polished, hedonistic without being hair metal, New York Dolls are it."
---