NON PHIXION
---
Non Phixion was formed in 1995 under the guidance of MC Serch of 3rd Bass, who brought together rappers Ill Bill (Later of La Coka Nostra & Heavy Metal Kings) Sabac Red, and DJ Eclipse, later to be joined by Goretex, another rapper and longtime friend of Ill Bill. Their first single "Legacy" was released a year later, and the group immediately began to develop a strong reputation as an underground act. Almost immediately a major label deal was secured with Geffen Records, but miscommunications over money between the group, the label, and Serch led to Non Phixion's dismissal from the roster.
Undaunted, Non Phixion pressed on, touring and performing in their native New York constantly, opening for contemporaries such as Gang Starr, The Beatnuts, and The Roots. In the background, attempts to get their debut album released continued to fall by the wayside, as plans to release through Matador never fully materialized, and producer Rick Rubin attempted to bring the group to Warner Bros. to produce the record himself. In the end the group's debut LP The Future Is Now was finally released in 2002 on Ill Bill's own record label, Uncle Howie Records.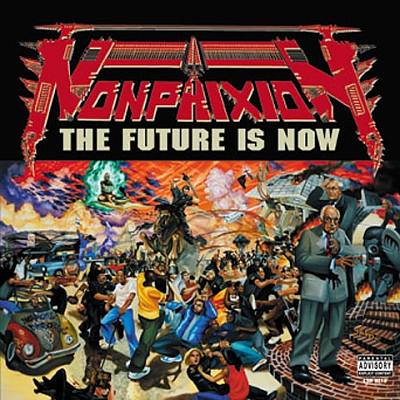 Non Phixion would later release a follow-up The Green CD/DVD in 2004, before going their separate ways in 2006, as each member pursued a solo career. Despite the group's failure to reach a mainstream commercial audience, the group have since become legends in underground circles, with The Future Is Now being heralded as one of the great unsung hip-hop classics of the 2000s. Unlike anything else that was being produced at the time, the album featured darkly clever rhymes inspired equally by classic street hip-hop as by death metal atmospherics, government conspiracies, and apocalyptic, futurist scenarios. Additional support came in the form of guest spots from heavy-hitters like MF Doom, The Beatnuts, members of industrial metal group Fear Factory, and many more, as well as top-of-the-line production, courtesy of greats like Large Professor, DJ Premier, Pete Rock, and Ill Bill's own brother Necro, among others.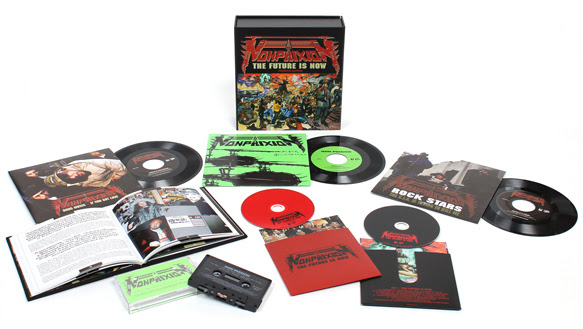 In recognizing the wide-reaching influence the album, Boston hip-hop boutique Get On Down has prepared a deluxe box set: The Future Is Now Premium Edition. The set is contained in a solid collectible box, and features the original The Future Is Now studio album on compact disc, as well as a compact disc of the instrumentals. Bundled alongside the CDs are scores of extras, including three 7" records of the album's three singles, housed in sleeves printed with reproductions of the original artwork, an 80-page hardcover book filled with liner notes, photos, and interviews, a reproduction of the group's press-only sampler cassette The Past, The Present, And The Future Is Now containing early demos and freestyles, and expanded artwork from the album's cover artist Mear One.
Now shipping from Traffic Entertainment Group!
---
PRESS FOR THE FUTURE IS NOW
"With beats that are both packed with tension and enjoyably sparse, a futuristic theme that fuels their intelligent lyrics, and a clever Voivod reference on the front cover, Non Phixion lives up to their fanfare and delivers a ramshackle collection of intelligent, literate rap tracks that points toward the future of hip-hop."
"The group flaunts its formidable influences, which is a big part of the reason its eagerly anticipated debut feels so strangely familiar. But while Non Phixion never threatens to top those influences, its mix-and-match approach to underground rap yields ample rewards."
"Accompanied by stellar production courtesy of the likes of DJ Premier, Pete Rock, Large Professor, Necro, and JuJu (Beatnuts), Non Phixion took the hip-hop game to the type of fantastical creative zenith that Iron Maiden brought to heavy metal. Their overflowing lyrical arsenal was chock full of twisted perspectives, and their imagery and packaging was totally distinct."
"It would be easy to define this album with cliched phrases like "quintessential backpacker hip-hop" but the sad truth is that albums this unique and interesting to listen to have no place on radio shows other than those Bobbito the Barber hosts…Still, if you're brave enough to take an enjoyable trip through something out of the ordinary that may even at times be hard to follow, Non Phixion's The Future Is Now fits that description to a tee."
"Non Phixion gives us the concept—be aware of the absurdity of our cacophonous society—but they don't preach about how we're to handle the self-awareness they encourage…It's more like a painting than a book or a movie; they're showing you everything all at once, to stir your emotions, rather than insisting you stay the course through a specifically delineated journey with a predetermined conclusion."
---