LYN COLLINS
---
The career of singer Lyn Collins (Nicknamed "The Female Preacher" for her powerful, full-throated voice) began in the 1970s, when soul legend James Brown received a demo tape from the Abilene, Texas native, becoming fully inducted into the James Brown Revue in 1970. At the time, Brown had entered the hardest, funkiest phase of his own career. The following year, Brown's label People Records released "Think (About It)", a single written by Collins herself and produced by Brown. The track was a commercial success and put Collins on the map as the most successful female singer in Brown's entourage.
1972 soon saw the release of a full-length effort from Collins, also named Think (About It), for the title track and lead single. Once again produced by Brown, and backed by The JBs, the album saw Collins tackling covers of Bill Withers and Gamble & Huff tracks, among a bevy of Brown-penned originals. The JBs' funky grooves interlaced with Collins' own booming soul vocals gave the album great critical and commercial acclaim upon its release, which led many music critics of the 1970s to label her the next Aretha Franklin.
The album's centerpiece was of course, its title track, which was already a commercial hit upon its original release. Beyond its success as a single however, "Think (About It)" developed its own legend over time, as one of the most frequently sampled songs in hip-hop. (Alongside "Funky Drummer", another James Brown production.) Right after its appearance on the famed Ultimate Breaks & Beats compilations of the 1980s, the track's rhythmic groove and a distinct vocal passage known as the "Yeah! Woo!" break went on to appear most famously as the basis of "It Takes Two" by Rob Base & DJ E-Z Rock, as well as tracks by Janet Jackson, Ice Cube, De La Soul, TLC, and even non hip-hop tracks like REM's "Radio Song" or Squarepusher's "Come On My Selector". The track also made appearances in video games like Grand Theft Auto: San Andreas, and Street Fighter III: The New Generation.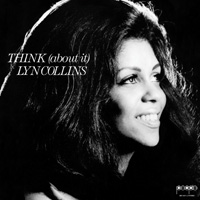 The album has never seen re-release on vinyl since its original 1972 pressing, but Get On Down has aimed to change that. More than 40 years later, the Boston-based reissue giant now presents a new LP reissue of Lyn Collins' Think (About It). The original release has been restored and re-mastered, and comes housed in a vintage stoughton jacket, which itself is housed in a specially embossed People Records sleeve. As if that wasn't enough, the album also comes bundled with a special 22″ x 22″ poster of the cover art, and a bonus 7″ record, which features Collins' 1973 single "We Want To Parrty, Parrty, Parrty" with the B-side "You Can't Beat Two People In Love", which is unavailable on any full-length release.
Shipping soon from Traffic!
---