FEATURED ARTIST: Ghostface Killah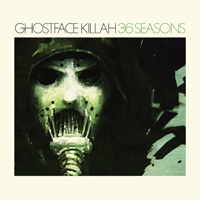 GHOSTFACE KILLAH
---
Rapper Ghostface Killah (Real name Dennis Coles) first achieved mainstream success as a member of the famed 90s supergroup Wu-Tang Clan. It was as a member of the group that he developed and was acclaimed for his standout style of rapping, which emphasized a loud and fast-paced flow, and stream-of-consciousness narratives which were peppered with obscure slang and non-sequiturs. He developed a strong reputation in hip-hop circles as an adamant storyteller, often developing complex characters, aliases, and mythologies around his lyrics. Q Magazine has referred to him as "rap's finest storyteller.", Pitchfork Media has said of him that "…he might be the best, most colorful storyteller rap has ever seen.", and About.com has included them on their list of the Top 50 MCs Of Our Time (1987-2007).
After the breakthrough success of Wu-Tang Clan's debut album Enter The Wu-Tang (36 Chambers), Ghostface went the way of his Wu-Tang peers and utilized the group as a jumping-off point for a solo career. The critical acclaim he had earned as a member of the group would follow him along his solo releases, mixtapes, and numerous collaborations. His debut and sophomore albums, Ironman (1996) and Supreme Clientele (2000) in particular have been heralded as hip-hop masterpieces, both appearing frequently on year-end "Best Of" lists, as well as "Best Albums Of All-Time" lists. Ghostface has also been critically lauded for his collaborations with artists as varied as hip-hop eccentric MF Doom, film composer Adrian Younge, acid jazz trio BADBADNOTGOOD, and played an integral role on fellow Wu-Tang member Raekwon's celebrated solo debut Only Built 4 Cuban Linx.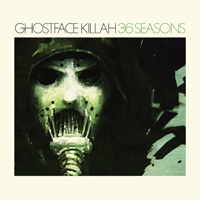 2014 saw the release of Ghostface Killah's latest studio album, 36 Seasons, which saw the Staten Island rapper engaging in a brand new collaborative effort, this time with the acclaimed instrumental Neo-soul group The Revelations. Picking up from a similar vein of his previous release 12 Reasons To Die, which took heavy inspiration from old Italian horror films, 36 Seasons is influenced by the iconography of 1970s blaxploitation cinema. Built around a story of revenge, dark secrets, and urban decay, 36 Seasons features more of Ghostface's deftness for narrative flow, bolstered by The Revelations' smooth soul backdrop. The album also features guest appearances from established underground heavy-hitters like AZ, Kool G Rap, & Pharoah Monche, as well as up-and-comers like Kandace Springs, and Tre Williams.
Now shipping exclusively on vinyl from Traffic Entertainment Group!
---
EARLY PRESS FOR 36 SEASONS
"On recent albums like last year's Twelve Reasons to Die and this year's 36 Seasons, the Wu-Tang Clan's most consistent solo artist has refocused on concept albums that blend his love of Blaxploitation-style action and vintage Seventies cop funk. 36 Seasons is backed by the Revelations, a New York retro-soul unit that spin elongated grooves out of old soul standards like the Fuzz's "I Love You For All Seasons."
"…this one is bringing '70s Blaxploitation films back with all their funk and flare. Brooklyn band and production team the Revelations provide the funk, with wah-wah guitars, punchy drums, and popping bass creating an atmosphere where karate chops, pimps, and players are all in their element…Inspiration flows out of the man throughout the album, and this end-to-end concept is executed with little note-spinning or boring lyrics that just serve the story…"
"With the storyline, Ghost's reliably specific penmanship, and The Revelations' involvement, 36 Seasons is the result of consummate artistic process and taste — a complete album both lyrically and musically."
"The album picks up a lot of steam, the story gets crazy, and it's one of the most thrilling rides you'll take all year, definitely. In a year Pitchfork is reporting that the full-length rap album is dead, this is a half-court, three-point shot at the buzzer of 2014 delivered to us by a team of incredibly talented individuals."
---