CYPRESS HILL
---
Cypress Hill has teamed up with Get On Down to celebrate the 25th anniversary of their
1991 debut with an ultra deluxe "25th Anniversary Skull" reissue. The entire set is housed in a unique, hard resin black skull – a faithful, 3-D physical recreation of the group's 1991 logo. A CD with remastered audio and a 100-plus page hardcover book are also included. The book features extensive liner notes by journalist Chris Faraone with input from B-Real, Sen Dog and DJ Muggs, and also includes full album lyrics and rarely seen photos provided by the group, as well as press clippings from 1991.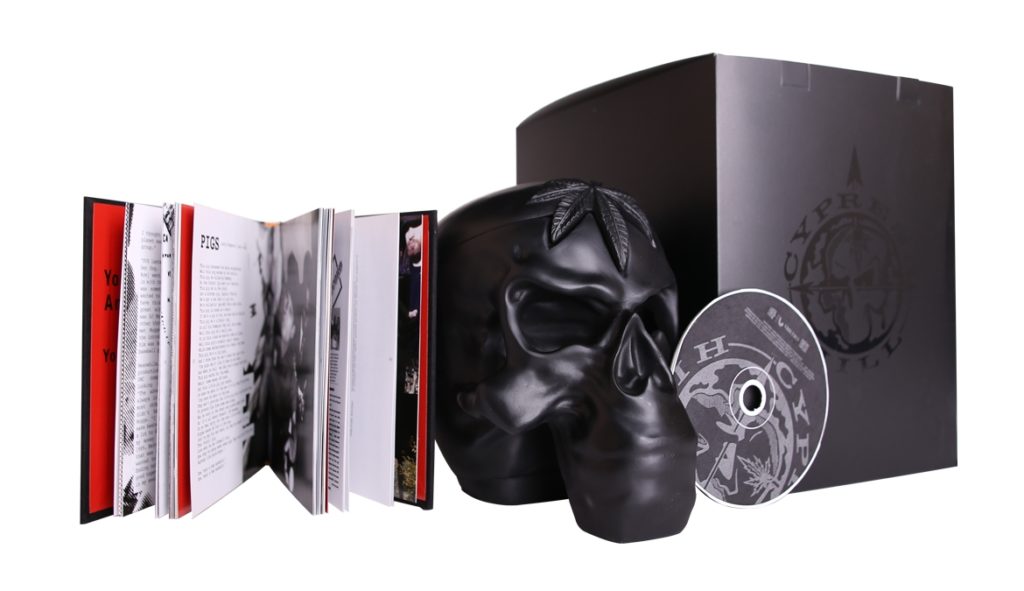 Cypress Hill's self-titled debut album was hard as nails, with very few pop concessions. There was humor, but it was laced by cackling, homicidal sneering. Not well known outside of the hardcore hip-hop scene at first, faces of the three group members weren't usually shown clearly in press photos; they preferred the shadows. As their first singles began hitting the airwaves and record racks, the press and music fans started to take notice. From the opening notes of the group's first single, "The Phuncky Feel One," to deeper album cuts like "Stoned Is The Way Of The Walk" and "Tres Equis," it was clear that Cypress Hill was something different. And very, very dope.

The world Cypress Hill espoused was gang-ridden and far from cheery, but they managed to laugh through the pain. Lead rapper B-Real took each fuzzed-out, rock-hard DJ Muggs beat as a challenge, jumping around it like a spark off a joint as it makes its way to the concrete. MC Sen Dog always had B-Real's back, to bring intensity and a no-bullshit gruffness that made the group both menacing and unpredictable. When they introduced percussionist Eric Bobo to the mix in the early 90s, it brought new dimension to the band, making their live performances one of the most unique and accomplished shows in hip-hop.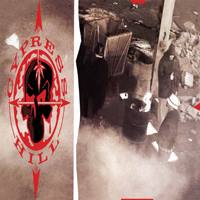 Cypress Hill's debut went gold by the end of 1991 and has since pushed past double platinum status, making it the first album for a Latino-American hip hop group to do so. The album received raves from the likes of Rolling Stone and the Los Angeles Times, saw a #1 Hot Rap Single with the release of "The Phuncky One" and helped the band win Artist Of The Year at the 1992 Source Awards. After 25 years, it should come as no surprise that Cypress Hill is a cornerstone of the group's live set to this day.
---
PRESS FOR CYPRESS HILL'S SELF-TITLED DEBUT ALBUM:
"It's hard enough to transform an entire musical genre — Cypress Hill's eponymous debut album revolutionized hip-hop in several respects…despite its legions of imitators, Cypress Hill still sounds fresh and original today, simply because few hip-hop artists can put its sound across with such force of personality or imagination."
"Cypress Hill's formula has been imitated so much, it's easy to forget how shocking it sounded at the time…D.J. Muggs pumps bongloads of bass into paranoid sound collages like "Hand on the Pump," and when you turn it up loud, the beat goes boo-ya."
– Rolling Stone (100 Best Albums Of The 90s)
"Cypress Hill brought a heavy metal mentality to hip-hop, minus the live guitars (that would come many albums later), and flaunted a fearless "fuck the world" attitude that meant they didn't think twice to make a song like "Pigs." Ultra-violence, loud drums, and a truck-load of weed? That's always a recipe for a great album."
– Complex (50 Greatest Debut Albums In Hip-Hop History)
"L.A.'s Cypress Hill document, rather than indict, street life with chilling impact. Slathered with mid-tempo bass and strutting snare drums, their self-titled debut, Cypress Hill, rocks, swings, and surprises…"
"How I Could Just Kill a Man" is about what it says it's about, anger rather than advocacy…and from their Beasties-Spanglish accents to their guitar-hip samples, it sounds different when these guys make music out of it–funny, for one thing, which in hard guys amounts to a new vision."
---