CLIPSE
---
From Virginia Beach, Virginia, rapper siblings Terrence "Pusha T" Thornton and Gene "No Malice" Thornton comprise the hip hop duo Clipse. The group formed in 1992, and very quickly defined themselves through their drug-savvy lyrics, and quirky synth pop-inspired production, courtesy of their longtime association with the production team The Neptunes. Since their inception the group have enjoyed commercial success, and immense critical acclaim for their eccentric take on street rap, which has enabled both members to maintain successful solo careers.
Though Clipse got their start in 2002, the group wouldn't hit their stride for nearly 10 years. Their first full-length release, 1997's Exclusive Audio Footage, was their first production outing with The Neptunes, and attracted a lot of fan interest, but was ultimately a commercial flop. After shuffling through record labels, Clipse ended up on Star Trak Entertainment, an imprint of Arista established by Pharrell Williams of The Neptunes. With Williams and his Neptunes cohort Chad Hugo helming production, Clipse entered the studio to create what would be their critical and commercial breakthrough: Lord Willin', which was released in 2002.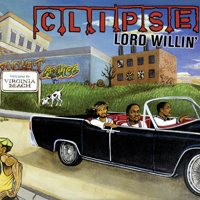 The album helped define Clipse's signature sound, and featured guest spots from other hip-hop powerhouses like Fabolous, Jadakiss, NORE, and Styles P, as well as appearances from Kelis, Sean Paul, and Lil Wayne, early in their careers, and an additional vocal appearance from Pharrell Williams himself, and many more. Lord Willin' not only succeeded in putting Clipse on the musical radar, but proved to be a smash among critics, who praised the album's dark and gritty tone, contrasting The Neptunes' bouncy, synth-heavy production, as well as the tightened, yet clever street-inspired rhymes of Malice & Pusha. The album blew up on the Billboard charts, reaching #1 on the R&B/Hip-Hop charts, and #4 on the Billboard 200, riding high on the strength of singles like "Grindin'" and "When The Last Time."
Clipse has since gone on to produce other acclaimed releases like Hell Hath No Fury, in 2006, and Til The Casket Drops in 2009, (Which was the group's first album not entirely produced by The Neptunes.) but neither quite managed to reach the level of acclaim that Lord Willin' had in its initial release. Clipse has since been on hiatus since 2010 to focus on solo work, but word persists that the group has planned to return with new material in 2014. In recognition of the original album's impact, (Which has been celebrated by outlets like Pitchfork and Slant Magazine as one of the best albums of the 00s) Get On Down now presents their vinyl reissue of Lord Willin'. The album has previously been out of print as an LP for nearly a decade, but now the Boston reissue giants are proud to present the album on a remastered audio record, with the original artwork completely intact. Now shipping from Traffic Entertainment!
---
PRESS FOR LORD WILLIN'
"…Adventurous but ruthlessly commercial; rap purists that broke every rule; futurists with a healthy sense of nostalgia…"
– Pitchfork.com
"…Seasoned with just the right amount of guest appearances and snarky brio, these songs are clever and expressive while still resolutely single-minded. Production by the Neptunes, who honed their craft with exquisitely wafer-thin stagger-step beats, didn't hurt."
– Slant Magazine
"…Lord Willin' is an oft-scary trip down the backstreets of Tobacco Road as Malice and Pusha T recount the trials and tribulations of the drug trafficker-turned-MC. Following in the footsteps of such rap criminologists as Kool G Rap, Nas, Jay-Z, and Mobb Deep, the Clipse offer the Virginia hustler's viewpoint with clever, hard-hitting lyrics…"
– AllMusic.com
"…Clipse depicts a vivid landscape where children are mesmerized by the scuzzy glamour of drug dealers, families breed generations of hustlers, and easily corrupted kids gravitate toward villains rather than heroes…"
– The A.V. Club
"…Malice and Pusha T strived to bring an authentic Virginia sound into the game and created a movement, with not only their sounds but The Neptunes' as well. Pharrell Williams and Chad Hugo were able to combine their funk/electronic vibes with the duo's street anthems and created a sonic masterpiece…"
– Under The Gun
---