CLIPSE
---
From Virginia Beach, Virginia, rapper siblings Terrence "Pusha T" Thornton and Gene "No Malice" Thornton comprise the hip hop duo Clipse. The group formed in 1992, and very quickly defined themselves through their drug-savvy lyrics, and quirky synth pop-inspired production, courtesy of their longtime association with the production team The Neptunes. Since their inception the group have enjoyed commercial success, and immense critical acclaim for their eccentric take on street rap, which has enabled both members to maintain successful solo careers.
Though Clipse got their start in 1992, the group wouldn't hit their stride for nearly 10 years, with the release of 2002's Lord Willin'. The album turned our to be a major boon for Clipse, and it helped break the duo critically and commercially, thanks to the combination of their gritty, street-savvy rhymes and flow, paired with The Neptunes' quirky, unhinged space-age synth production.
Not long after Lord Willin' blew up across the hip-hop scene, Clipse began to work on their second full-length release, only for the process to be mired with label-related tension and turbulence. After a merging between Arista Records and its sister label Jive, Clipse were contractually forced to abandon their label home on The Neptunes' imprint Star Trak Entertainment. (Which moved to Interscope) The album's increasingly aloof attitude towards the duo in favor of its Top 40 acts led to Clipse requesting a formal release from Jive. The label refused their request, which led to a series of lawsuits and litigation, finally reaching an agreement in 2006, where Clipse agreed to release their new album through Jive on their own label.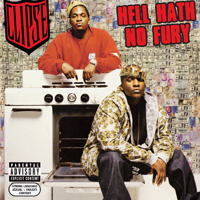 The album was titled Hell Hath No Fury, and is remembered and acclaimed as having a significantly darker and angrier tone (Undoubtedly from the years of label hold-up on Jive's end) from Lord Willin'. The Neptunes still remained at the production helm, taking a stab at revising the famed electro-funk textures of 1980s group Mantronix in their  production style. Though Hell Hath No Fury was greeted to lukewarm sales (Though it did debut at #14 on the Billboard Charts) it received widespread praise for the inventiveness and energy of Clipse's lyrics, combined with The Neptunes' off-kilter beats. So many years later, Boston boutique Get On Down is proud to reissue the album (long out of print on vinyl) with re-mastered audio, and pressed on premium grade white vinyl!
---
PRESS FOR HELL HATH NO FURY
"Hell Hath No Fury is a lean, furious, cold-blooded album that is vividly to-the-point…The whole thing, including the club-oriented tracks, is magnetically grim."
– AllMusic.com (5-Stars)
"…One of the best hip-hop albums of the year…Pusha and Malice complement the Neptunes, and each other, perfectly."
– Rolling Stone (4-Stars)
"With musical partners the Neptunes, Clipse have crafted 12 unrelenting tales of desperation and distribution, glamour and gloating."
– Pitchfork (9.1 out of 10)
"Rather than self-destructing, the duo started from scratch and channeled their frustration into a new, confidently mature sophomore effort…the 12 carefully crafted tracks on Hell Hath No Fury are pure, uncut dope."
– XXL Magazine (XXL-Rating)
"Once again, Chad Hugo has pulled Pharrell back into the studio and justified every salivating piece of praise thrown the pair's way….Fury is a twelve step sequence of poisonous, caustic, and lithe rap."
– Stylus Magazine (A-)
---