BOOGIE DOWN PRODUCTIONS
---
Few can argue the impact that South Bronx rap group Boogie Down Productions has had over hip-hop's wide and storied history. Their 1987 debut album Criminal Minded set the blueprint for what would eventually become gangsta rap, and featured the tracks "South Bronx" and "The Bridge Is Over", both withering retorts against Queensbridge hip-hop artists, and two of the best known diss records of all time, while the track "Remix for P is Free" was also integral in the merging and fusion of dancehall reggae and hip-hop music.
The shooting death of founding member Scott La Rock would mark a turning point stylistically for Boogie Down Productions, as remaining founder KRS-One turned the group's focus turned away from gangster themes, and more towards social and politically conscious hip-hop. The 1988 album By All Means Necessary was the linchpin of their mood shift, and was critically acclaimed and listed among hip-hop's greatest albums, just as Criminal Minded had been. Continuing on this route, the group now consisted of KRS-One, and collaborators including D-Nice, DJ Red Alert, Ms Melodie, and would also release the albums Ghetto Music: The Blueprint of Hip-Hop in 1989, and Edutainment in 1990.
1992 would see the release of Sex And Violence, the final album from Boogie Down Productions, (KRS-One would continue on as a solo artist from that point forward) at a time when the group was in an awkward position. KRS-One had alienated much of his fellow collaborators, so BDP's roster had dwindled considerably for the album's release, on top of public incidents like the group's crashing of a concert by soft-rap group PM Dawn.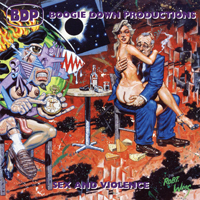 Sex And Violence was intended as a response to fans who demanded Boogie Down Productions (Now consisting of KRS-One, Willie D, and DJ Kenny Parker) return from their socially conscious sound to the hardcore sound of their early days. It featured guest spots from the likes of Freddie Foxxx, Kid Capri, and others, and was the first to feature guest producers, this time from Prince Paul, Pal Joey, and D-Square. Though the album failed to restore BDP's commercial fortunes, it was a hit among critics, and is hailed as an underrated classic among hip-hop heads to this day. Now the reissue giants at Get On Down have brought the album back, remastered from the original tracks, and pressed on vinyl for the first time since 1992.
---
CRITICAL PRESS FOR SEX AND VIOLENCE
"KRS-One sounds like his usual self, And the best news of all is that his new crew members have helped to toughen BDP's musical side…Sex and Violence is funky from beginning to end."
"Sex And Violence (like other BDP albums) is informative and challenging…With Sex And Violence, KRS goes back to the hardcore underground without abandoning his mission…"
"…Even if you don't agree with all of the points KRS-One makes, he certainly makes them with conviction, and with a confidence and skill that few rappers have ever had (or ever will). When backed up by the likes of Prince Paul, Kenny Parker, Pal Joey and D-Square, that confidence is matched by equally confident beats to back him up, it results in a hip-hop classic. An unrecognized classic…"
---