BLUTENGEL
---
Hailing from Berlin, Germany, darkwave group Blutengel came from the destruction of another darkwave band, Seelenkrank. Like Blutengel, Seelenkrank was the brainchild of gothic dance legend Chris Pohl, (Also of the industrial band Terminal Choice, and aggrotech group Miss Construction) who ditched the moniker after contractual issues forced him to abandon his original record label. Pohl continued as Blutengel, whose brand of Depeche Mode-inspired dark-synthpop, and intimate electronic music has earned him (And his constantly rotating lineup of musicians and backing vocalists) audiences in and out of dance clubs the world over, and has allowed him to perform at festivals like Amphi Festival and the Out Of Line Weekendr alongside fellow dark dance acts like VNV Nation, Icon Of Coil, Faderhead, and numerous others.
The band's start began in 1998, as Pohl began to explore more romantic themes, dipped in dark undertones, backed by pounding club-ready beats, which lead to the release of the first Blutengel album, Child Of Glass in 1999. Word slowly spread throughout Germany up to their sophomore album Seelenschmerz in 2001. (Making their live debut in Liepzig to an audience of 10,000 fans.) The group's big commercial break came in the form of their following albums, Angel Dust (2002) and Demon Kiss (2004), which were released to massive critical and commercial success, and rendered massive club hits like "Vampire Romance" and "No Eternity." Their further albums would yield similar success through 2013.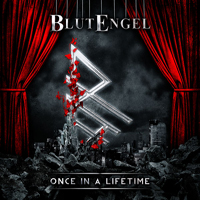 It was just last year that Blutengel released their latest studio effort Monument, which was both critically and commercially acclaimed, reaching #4 on the sales charts in their native Germany, and made massive goth-club hits out of the singles "Save Our Souls" and "You Walk Away." Alongside Monument's release, Blutengel would engage on a massive, frequently sold-out tour of their native Germany. The stop in their native Berlin would become the basis for a new live release: Once In A Lifetime, from German industrial label Out Of Line Music. Recorded from the traditional music hall "Huxley Neue Welt", the album drips with Blutengel's signature ambience and ethereal opulence, bolstered by Pohl's own enigmatic vocals. Hits like "Reich Mir Die Hand", "Angel Of The Night", and many more are on full display on Once In A Lifetime, and are captured with lavish and pristine audio quality.
Once In A Lifetime is now shipping domestically from Traffic Entertainment on a double audio CD, as well as on DVD and Blu-Ray, with additional behind-the-scenes clips and documentaries.
---
EARLY PRESS FOR ONCE IN A LIFETIME
Early Preview from Intravenous Magazine
Live performance of "Reich Mir Die Hand" from the album/video itself:
---