BIG SHUG
---
Boston-born Cary Guy is better known by his hip-hop moniker Big Shug, and his mainstream success has largely been tied to his connection to his friendship with Gang Starr MC, Guru. (Shug is an alumni of the Gang Starr affiliate group Gang Starr Foundation.) In his hometown of Boston, his status is unquestioned, remaining a mainstay and respected veteran of Boston's underground rap scene.
Best known for his relentless lyrical swiftness, and penchant for menacing, street-savvy rhymes, bolstered undoubtedly by his famously enormous physique and imposing demeanor. Shug's albums have received great critical acclaim from various hip-hop outlets across the country, and has led him to collaboration with underground heavyweights like Slaine, Bumpy Knuckles, & Sean Price, as well as his Boston contemporaries like Termanology, REKS, and Gang Starr producer DJ Premier. He has even made appearances in films like Clear History and The Heat.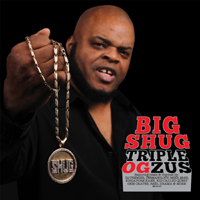 2015 now brings Big Shug's latest studio release, titled Triple OGZus. Shug himself has said of the album: "Triple OGzus represents me as a street veteran, underground icon and original gangster who is always wise to the game. I love the fans and will always represent authentic hip-hop music with my soul." The album will feature appearances from constant collaborators Termanology, REKS, Singapore Kane, & others, with production from DJ Premier, Kid Called Quest, and many more. Now shipping on compact disc from Traffic Entertainment!
---
SEE THE MUSIC VIDEO FOR THE DJ PREMIER-PRODUCED TRACK "OFF RIP" BELOW. FEATURES GUEST SPOTS FROM TERMANOLOGY & SINGAPORE KANE:
---