B.B. KING
---
Born in Mississippi in 1925, Riley B. King first began his performing career at a very early life, singing and performing guitar in gospel choirs, taking in the gospel and country influences of his deep South home. A protege of Delta Blues legend Bukka White, King gradually made his way to Arkansas, where he made a name for himself performing on Sonny Boy Williamson's radio show, and eventually became a disc jockey himself at the Memphis station WDIA. It was there that he found local fame, taking on the performing name Beale Street Blues Boy King, later shortened to Blues Boy King, until eventually settling on his most well known moniker: B.B. King.
King first began to record songs under contract with RPM Records out of Los Angeles, and eventually formed a band, touring across the US in major cities and tiny juke joints alike. By the 1950s, King became one of the most important and well-known names in R&B music, having charted numerous hits, (Including classics such as "3 O'Clock Blues", "Sweet Little Angel", and "Every Day I Have The Blues") and touring extensively. (With as many as 342 performances in 1956 alone.) By the 1960s he had his first deal with a major label, MCA Records. His public visibility never faltered even into the 1970s, scoring some of his biggest mainstream successes, and a Grammy award win for the song "The Thrill Is Gone." To this day King has continued to perform and remain visible in the public eye, having been inducted into the Blues Hall of Fame, Rock and Roll Hall of Fame, and has received the Presidential Medal of The Arts, and Medal of Freedom.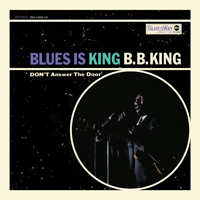 During the 1960s B.B. King recorded numerous live albums, but chief among them was 1967's Blues Is King. It was King's final live album (Not counting the bootleg The Kings' Jam performance with Jimi Hendrix) before his popularity his a massive peak in the 1970s, during which his raw and traditional blues sound took on a refined and ethereal sound with the new inclusion of string arrangements. There were no string sections on Blues Is King, just the one-two punch of King's own story-telling charisma, and his tightened and refined criss-crossing guitar style. Recorded in a Chicago club one November night in 1966, King is flanked by a slew of revered Blues sidemen, including Sonny Freeman on drums, Kenneth Sands on trumpet, and Louis Satterfield on bass, just to name a few. In the end, the star of Blues Is King is King himself, frequently bantering with the club audience, and spinning musical stories of heartache and rage with his impassioned vocal roar, and precision blues guitar zeal.
Shipping soon from Traffic Entertainment Group!
---
PRESS FOR BLUES IS KING
"From "Tired of Your Jive" to "I Know What You're Puttin' Down" to the unequivocal "Baby Get Lost," B.B. lets his audience in on the ups and downs of romance in no uncertain terms, both through his impassioned vocals and characteristically stinging guitar. The effect is both cathartic and awe-inspiring."
"If I had to pick the essential BB King album, it would be Blues Is King. An incredible record in every way. What's interesting is, at the time he made it, he was coming off a lawsuit in which he lost a lot of money, so he couldn't afford a big band and fancy production. So he just went ahead and cut the disc live with a four-piece group – and he's on fire! His covers of Buzz Me and Night Life are the definitive versions, in my opinion."
– Joe Bonamassa, Interview with MusicRadar.com
---