ADRIAN YOUNGE & BLACK DYNAMITE
---
As a producer, Adrian Younge has worked alongside artists and groups of various genres and styles. From Ghostface Killah to The Delfonics to Jay-Z to Souls of Mischief. He is also the proprietor of the record store Artform Studio in Los Angeles, and a key figure of the record label Linear Labs. The area where he's arguably most famous however, is in the realm of film composition, having left his stylistic sound – an amalgam of retro sounds that takes a wide range of influences, from Ennio Morricone to Curtis Mayfield – on many independent movies. Films like Venice Dawn, Something About April, and the movie that put him on the map: Black Dynamite.
Black Dynamite was an action-comedy released in 2009, directed by Scott Sanders, and starring Michael Jai White, Salli Richardson, Arsenio Hall, and various others. Both a loving pastiche and a witty parody, Black Dynamite satirized the famed blaxploitation films of the 1970s, (Films like Shaft, Dolemite, and Sweet Sweetback's Baadasssss Song) both celebrating and lampooning the genre's various tropes and cliches. Prior to its domestic release, the film beat out the Oscar-winning film The Hurt Locker for the Audience Award for best film at the Seattle International Film Festival, and upon its limited release to theaters it earned massive critical acclaim. It would eventually spin off into a comic book series, and a hit animated show on Adult Swim, with a sequel film also in the works.
The film itself was a hit with critics, but special attention was also paid to the soundtrack, composed by Adrian Younge, which created an authentic 1970s atmosphere, cribbing heavily from the sounds of the same blaxploitation movies Black Dynamite inspired. Utilizing a deep ensemble of Rhodes electric piano, Hammond organ, Hohner Clavinet, harpsichord, synthesizer, vibraphone, guitar, bass, flute, sax, cello, and drums, (All instruments played by Younge himself) he had crafted a lush and meticulously woven homage that sounded closer to a long-lost deep soul album than a modern album.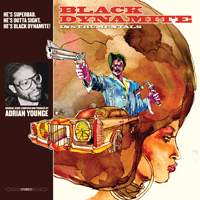 Black Dynamite's soundtrack has not previously seen a release on vinyl, and a sample-ready instrumental version has never been released, until today. More than 5 years after the film's original release, Younge's label Linear Labs is proud to present an instrumental version of his bold soundtrack, complete with never-before seen bonus tracks. A must-have for any fan of the blaxploitation genre, and the dusty, dark soul music of the 1970s.
Now shipping from Traffic Entertainment Group!
---